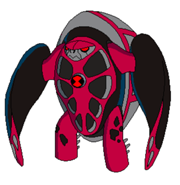 He is the fusion of Terraspin and Water Hazard.
Appearance
Edit
He has Terraspin's body except his colours are Water Hazard's.
Powers and Ablities
Edit
He can mix water and air and attack.
When he hovers, he can produce water which will defeat the opponent.
Weaknesses
Edit
If he gets hit by electricity, he is defeated.
Omniworlds
Edit
In Jaguar's Claw, he threw water on Animo and his frog making them very weak. He was defeated later by Animo's frog.
Appearances
Edit
Omniworlds
Edit