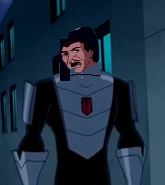 Sir Reginald was the knight which freed the Lucubra in Ultimate Alien. The Lucubra made his neck a litle turned when he took control of him. After Diagon was defeated, Reginald and Christian thought that they should keep using alien tech.
Appearance
Edit
He wears the new forever knight suit and has brown hair. His neck is twisted.
Omniworlds
Edit
In The Return For Ever, he was sent by Sir Christian to fight Ben and Tack. Tack fought him and defeated him. He teleported himself somewhere else befre the plumbers could catch him and the Knights.
Appearances
Edit
Omniworlds
Edit