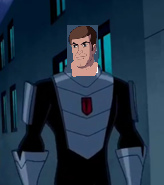 He was originaly a small crook when he was only 18. He met Cyrus and Cyrus saw his skills and allowed him to work with him. He had helped the forever knights fight the war against Diagon. After Diagon was defeated, he and Reginald thoght that they should keep using alien tech.
Appearance
Edit
He wears the new forever knight armor and he has brown coloured hair.
Omniworlds
Edit
In The Return For Ever, he was making his knights collect the parts of a gun but was defeated by Ben as Husum. He, then teleported to somewhere else.
Appearances
Edit
Omniworlds
Edit