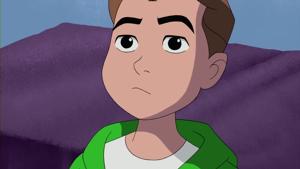 James "Jimmy" Jones is a kid who is a major fan of Ben and his alien heroes. He runs a website with pictures of aliens around the world including, every alien Ben has ever turned into, even dating back to when Ben was ten years old. He always refers to Ben as Mr. Tennyson.
Jimmy wears a hoodie similar in design to Ben's jacket. Jimmy sent out a video that finally showed the world that Ben has the ability to turn into aliens, as he thought Ben would like the fame and money.
Omniworlds
Edit
In Aggregor Returns Part 1, he gave information of Aggregor's ship.
In Story Of Costin, he was called by ben to hear Costin's story.
In The Return For Ever, he gave information about the Forever knights and gave the address of one castle.
Appearances
Edit
Omniworlds
Edit