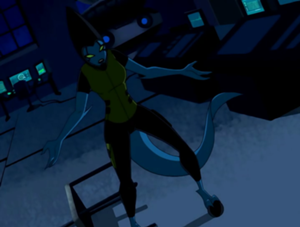 Helen Wheels is a Plumber kid. She is the younger adopted sister of Pierce, as well as Manny's partner.
Personality
Edit
Helen is smart, brave, kind, nifty and level-headed, though at times she usually tries to act rational and wise, making her mostly a mirror image of Gwen Tennyson, as well as an older sister figure for younger Plumbers such as Cooper and Alan. She is shown to be devoted to Max, willing to help him when he was seemingly attacked by Ben.
Helen shares a love-hate relationship with Manny. While Manny is usually hot-headed, aggressive and enjoys using violent methods, Helen is usually more careful and less aggressive, causing occasional arguments. On the other hand, she stated that they worked better teaming together than with other Plumbers, and shows true concern when seeing him injured or in danger.
Powers and Abilities
Edit
Being a Kineceleran hybrid, Helen possesses powers and appearance similar to XLR8: her feet end with wheel-like appendices, making her able to move like a roller skater and giving her incredible speed. How exactly fast she can go has not be revealed, but she's shown being able to move fast enough to do the same things as XLR8, such as racing up a wall or creating miniature tornadoes.
Helen has also learned how to use her speed to her own and her team's advantage beyond the obvious; during the climax of Above and Beyond, in conjunction with Alan, Helen helped to restrict Humungousaur's movements and range of vision by using the airflow produced by her super speed to fan Alan's flames.
In addition to her powers, Helen is shown to be quite skilled with computers and technology.
Omniworlds
Edit
In Story Of Costin, she was called by Ben to hear Costin's story.
Appearances
Edit
Omniworlds
Edit