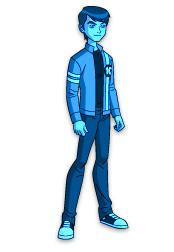 Evil Ben is a human from the planet Earth from another dimension in
Ben 10 Omniworlds
.He has an omnitrix similiar to Ben's. his omnitrix is blue coloured.
Appearance
Edit
He looks same as the real Ben. He has a blue coloured jeans, blue coloured jacket and blue hair.
Powers and Abilities
Edit
He has the same powers as the normal Ben and he knows a lot about the aliens's secrets.
Omniworlds
Edit
In Evil Invaders, he tried to defeat Ben and takes his omnitrix but was thrown back to his dimension.
In Evil Assistant, he came out from the portal which was opened by Gorvan.
In Evil Attack, he and his team along with Gorvan wanted to kill Ben and his team so that they could rule Ben's universe but got sent to their dimension by Ben (Clockwork).
In The Start Of Evil War, he came into Ben's imension through the time portal and electroudes Water Hazard so that he doesn't hurt Gorvan.
Appearances
Edit
Omniworlds
Edit